History of Santa Gertrudis
The beginning of the Santa Gertrudis cattle breed.
Necessity brought about the development of the Santa Gertrudis breed in the United States of America. Through genetic engineering and Australian beef cattle management skills, this has progressed to what is now one of the major true beef breeds of Australia.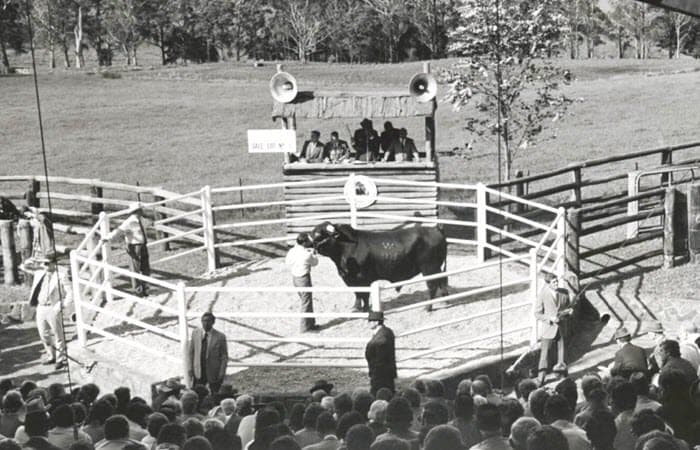 Until about 1880, the King Ranch of south Texas USA, founded in 1835 by Captain Richard King, ran Longhorn cattle.
Although these were hardy specimens they did not produce an ideal carcass. Cattle of European origin were brought in, but, while the meat quality was improved, these breeds did not thrive in the semi-tropical environment of south Texas.
Beginning in 1910, the King Ranch began crossing Shorthorns with Brahmans, hoping for offspring which could perform well under local range conditions and, at the same time, produce a quality carcass.
In 1920, a crossbred bull calf was born and named "Monkey" because of his playful nature. He was of gentle disposition, deep, beefy, red in colour and weighed 498kg (1000 lb) at 12 months of age.
Monkey was put into the breeding herds of the Brahman-infused Shorthorn cows in 1923 and soon began showing his capabilities as a prepotent sire. He sired calves which retained his characteristics and bred true to type. Monkey sired more than 150 useful sons before his death in 1932. All of these sons were used in the King Ranch breeding program.
By the mid-1930s, the King Ranch`s Santa Gertrudis herds had grown to the extent that they could let their neighbouring ranchers have a few bulls.
In 1936 a few bulls were exported to Cuba, marking the first purchase of the breed outside the United States.
Most of the ranchers obtaining bulls from the King Ranch in the mid-1930s immediately put them into commercial cow herds of other breeds. Since then, through the wise and judicious use of purebred Santa Gertrudis bulls, these ranchers were able to evolve herds carrying enough Santa Gertrudis blood to be acceptable and to breed true as purebred Santa Gertrudis.
By selective breeding, occasional inbreeding and skilful mass selection, the characteristics of the bull "Monkey" and his offspring were rapidly established in the descendants of the original Shorthorn breeding herds.
By 1940 a large herd of these improved cattle had been evolved on King Ranch with the animals breeding true to type. In that year, Santa Gertrudis was recognised by the United States Department of Agriculture as a pure breed.
The Santa Gertrudis breed has advanced in leaps and bounds until today representatives of the breed are located throughout the United States and in all major beef producing countries throughout the world.
As necessity had brought about the creation and development of the Santa Gertrudis breed of beef cattle, it was desirable, in the eyes of those at the King Ranch where the breed was developed, that other cattlemen should enjoy the benefits of increased production even in harsh conditions, that could and were being obtained by introduction of these new cattle.
Many of the larger Santa Gertrudis herds of today were developed from a commercial base through the use of purebred Santa Gertrudis bulls.
Although the King Ranch did not sell females at that time, the development of at least 100 early herds was boosted with the purchase of purebred foundation stock from another Santa Gertrudis pioneer, Richard King of Corpus Christi.
By the means of an open herd book, cattlemen may still upgrade to a purebred status through the use of purebred Santa Gertrudis bulls on four successive heifer groups, regardless of the foundation breed.
In 1950 the Santa Gertrudis Breeders International Association was formed at Kingsville, Texas. The Association accepts fourth generation animals as eligible for classification as purebreds providing they meet the requirements of the Standard of Excellence for the breed upon visual inspection by an official Association Field Director.
Third generation females are eligible for classification by the Association as Santa Gertrudis providing they meet the requirements called for in the Standard.
The Association plans to keep an open herd book indefinitely so that new bloodlines may be introduced.
King Ranch Australia introduced the breed in 1952 with the importation of 75 bulls and 200 heifers. They established headquarters at Risdon, Warwick, Queensland and offered 12 bulls at public auction on November 14, 1952. King Ranch Australia made a further importation in 1954.
Included in the original shipment were three bulls for Mr. Murdo Mackenzie of "Old Hidden Vale", Grandchester, Queensland. Others to import were: Joyce and Joyce, Eidsvold Station, Eidsvold, Queensland; Joyce and Joyce, Gyranda, Cracow, Queensland; Peel River Land and Mineral Company, Goonoo Goonoo, Tamworth, N.S.W; Tropical Cattle Pty Ltd., Ingham, Queensland; Lyle Kirkby, Moree, N.S.W.
Shortly after this, a total embargo on importation of bovines was placed by the Australian Government to prevent the possible introduction of Blue-Tongue Disease so no further importations were possible until the establishment of the Cocos Island Quarantine Station in 1981.
From these small numbers, the breed spread to all States of Australia, contributing significantly to beef production in all areas. Many breeders, by grading-up, have reached the fourth cross and are producing purebreds for classification and registration. The Santa Gertrudis Breeders` (Australia) Association was formed in 1954 and has maintained firm control on registration and classification procedures. The Association was registered as a company limited by guarantee in 1975. Santa Gertrudis blood has been introduced into commercial herds by the use of specially selected first, second and third cross as well as purebred bulls.
Geneticists, scientists and practical cattle breeders today assess the value of stock by their genetic make-up; therefore, provided a crossbred bull comes from quality root stock and is himself a high class individual, he can be used to introduce the Santa Gertrudis blood to a herd with every confidence. Although purebred bulls have largely taken the place of crossbreds, the infusion of Santa Gertrudis blood into Australian commercial herds will always be an economical proposition.
The Santa Gertrudis Breeders` (Australia) Association remains the only beef society in Australia to maintain a strictly controlled Herd Classification System. The implementation of the Classification System on all cattle in the Association`s herd book is the solid stamp of approval that your purchases meet strict minimum standards. As a commercial cattleman the benefits you receive using Classified `S` Santa Gertrudis bulls will become obvious in your first crop of calves. You will see increased muscling, rapid growth, easy calving, higher weaning weights and better overall performance, whether in the paddock or in a feedlot.